2021-04-27 Weekly SCHH Ham Club This and That
Items of Interest:
Looking to upgrade or know someone who is interested in getting a license?
The Club will be sponsoring an FCC Amateur Radio license testing session at 10am on May 19, at Pinckney Hall. While the test session is open to all, appointments are suggested. Contact Dennis Hopkins, AC4DH, at 207-350-1350 or AC4DH@arrl.net for additional information or to schedule your test.
If there is interest in a pre-exam review session to help candidates prepare, it can be arranged. Contact Dennis indicating your interest, and the topic(s) you would like covered.
Morse Code Day is April 27
Morse Code Day has been designed to pay tribute to this traditional form of communication. It involves using standardized sequences of two different signal durations. These were called dits & dahs or sometimes dots & dashes. The name "Morse code" is based on the name of the inventor of the telegraph; Samuel Morse. I wrote up a small post about Morse Code Day on my blog.
How a WWII Maneuver turned into a Competitive Sport
Every two years, competitors from different countries descend upon a forest, armed with direction finding tools of a bygone era.
The military uses these techniques for practical reasons, identifying hidden military bases, transmitters, and submarines that would otherwise be a secret. Now, radio direction finding has become a sport that combines the geeky charm of ham radio, the outdoor skills of orienteering, and the endurance of cross country.
Humor: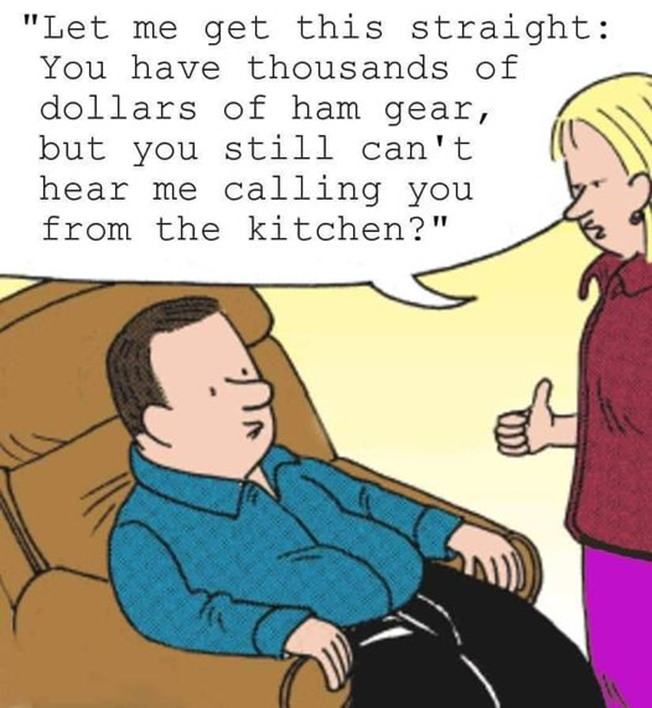 Meetings:
The next meeting will be May 3rd at 7 PM via Google Meet (online video). Agenda to follow…
Club Website:
The URL is https://www.ke4ham.org. If you notice any errors or have site-related questions, email: webmaster@ke4ham.org.
Nets:
Wednesday Nets (8 PM) operates from KK4ONF/Jasper repeater, 147.060+ and Echolink node: KE4HAM-R
Sunday NET (8 PM) operates on 147.550 MHz simplex and Echolink node:
KE4HAM – L
Other operating:
Daily — DX spotting and open chat 24/7 on 147.550 MHz simplex and the Jasper Repeater, 147.060+ (no Echolink).
AD5EN – SCHH Amateur Radio Club VP