2023-7-4 Weekly This & That Newsletter
Fourth of July!
Here's to a great 4th of July for all members and friends of the club and their families.
If you're on the road, safe travels!
This is the 247th anniversary of the signing of America's Declaration of Independence. Let freedom ring!
God Bless America!
Field Day Follow-ups
Thanks to Dennis Hopkins, AC4DH, the SCHH ARC's KE4HAM entry was successfully submitted to the ARRL last week.
Here is a partial view of the entry that includes the salient information.
The club's total score (1,930 points) bettered last year's tally (1,446). KE4HAM made fewer contacts this year but was able to garner more bonus points to more than make up the difference.
Looking at our QSOs by band and mode, it is impressive that we had contacts on four different bands. We did not get on to 10m, which probably would have yielded a few more contacts.
Overall, the club did very well but, with some additional operation on HF, we should be able to beat our 2023 effort next June.
If you operated your personal station during Field Day, please send an entry into the ARRL for your efforts and include "Sun City Hilton Head Amateur Radio Club" as your club! Every point counts!!!
Note that last week's This & That incorrectly identified Anna Maria Tabernik as the SCHH Board's president. She is actually the Board's vice president. The club appreciated her visit to our Field Day and hope she'll come back next year as well.
If you were at the site on June 24th, you probably noticed more safety cones and safety tape was in place. We also had a nice first aid kit and fire extinguisher on hand. Thankfully, neither the kit or extinguisher got any use that day! Thanks to Jack Frisch, K2ITZ, for being our Safety Officer and to Lon Seward, WB4KSG, for the first aid kit and lending us his extinguisher.
Other club events are planned for July and August. See below and mark your calendars!
13 Colonies Operation in Full Swing – Celebrating America
The annual 13 Colonies special event began on July 1st and will continue through July 7th on all bands including the WARC bands and on all modes. South Carolina's station, K2L, has dozens of volunteer operators around the state trying to have SC once again lead the pack in terms of the number of QSOs made. Last year's QSL cards (pictured below from all 13 original states) were designed around Battlefields from the American Revolution.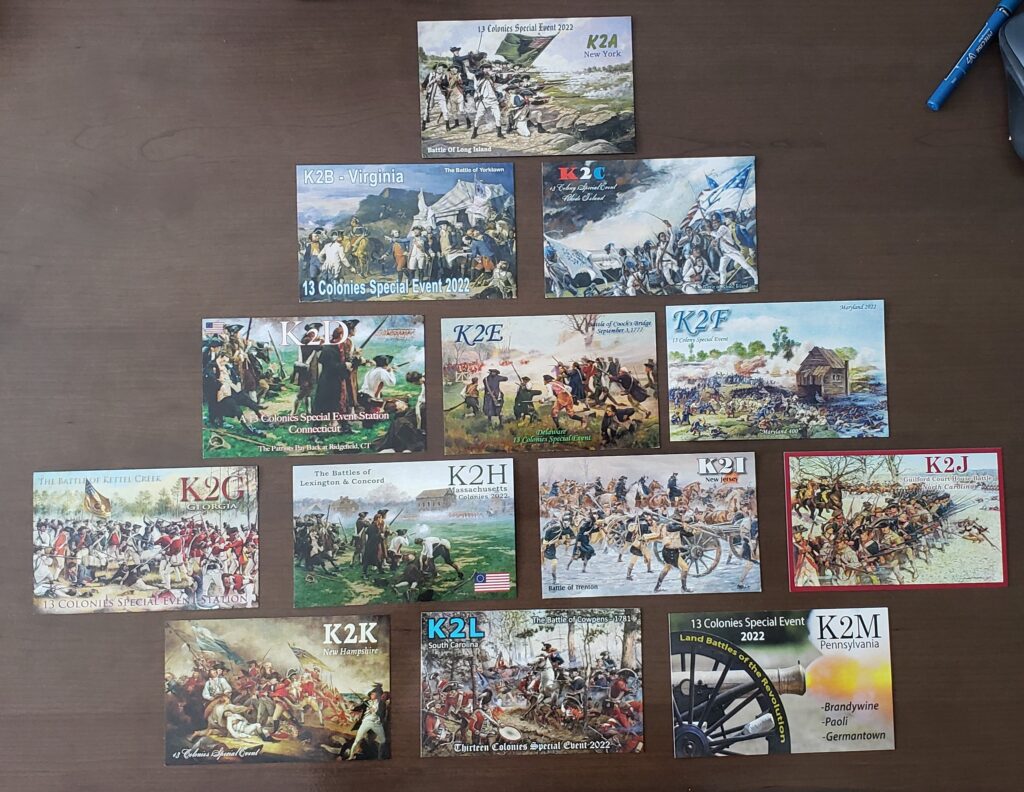 This year's QSL card theme is "Signers of the Declaration of Independence".
Keep an eye out for K2A through K2M in the days ahead and also look for the three "bonus stations": WM3PEN in the Cradle of Liberty (Philadelphia), GB13COL in England, and TM13COL in France.
Upcoming Club Events
July 15th – SCHH ARC Fox Hunt
Organized by Ron Frick, AI4HH, and Ed Stratton, W1ZZ. More details to follow.
Coordinated by Jack Frisch, K2ITZ. More details to follow!
Next Membership Meeting
The Club's next Membership Meeting will be on Thursday, September 7th, at the Lake House. Plans are to have an Elmer Presentation by Frank Pollino, K2OS, at 6:45 PM followed by the evening's main program, which will be presented by Ken Finke, KN8F, and cover how to get an antenna installation approved here in Sun City. The business meeting will follow Ken's presentation. More info will be sent as the date gets closer on the calendar.
Club Website
The URL is https://www.ke4ham.org. If you notice any errors or have site-related questions, email: webmaster@ke4ham.org.
Nets:
Sunday NET (8 PM) operates on 147.550 MHz simplex and Echolink node: KE4HAM – L
Wednesday Nets (8 PM) operates from KK4ONF/Jasper repeater, 147.060+ and Echolink node: KE4HAM-R
Thanks to our regular Net Controls: Bob Officer, WA6WAY; Russ Treadwell, N1ZK; and Harve Hnatiuk, KB3FW.
Thanks to Ron Frick, AI4HH, for keeping the nets on Echolink.
Please check into our nets when you can. The nets are informative and interesting and foster club camaraderie.
If you are interested in being a Net Control, please let Ron or Harve know.
Other Operating:
Daily — DX spotting and open chat 24/7 on 147.550 MHz simplex and the Jasper Repeater, 147.060+ (no Echolink).