2021-05-11 Weekly SCHH Ham Club This and That
Items of Interest:
Bluffton Fire District Radio Test – May 19
Did you know that more than 50% of calls to Bluffton Fire District come from Sun City?
The Bluffton Fire District is requesting our help to test the 2M backup radios in all fire stations. This is an excellent public service opportunity to show our talents and a great way to be of direct service to our community.
Our first monthly test net is coming up on Wednesday, May 19 from 6:30pm to 7pm. This will be a professional all-stations radio test, not associated with our usual 8pm Wednesday Technical Net.
Our Public Service Coordinator, Dan McLaughlin, K4DNY will be net control from Station 38 (EOC). Ron, AI4HH and I will cover two more. We will need six or more additional volunteers to support the other stations.
Please consider supporting a station for the 30 minute test. To volunteer, simply reply to the newsletter email with your name and call, informing us of any travel limitations you may have. Dan will be hosting a brief Zoom meeting to prepare you for the test net.
I look forward to hearing from you by Friday, May 14.
-Russ, N1ZK
The most basic form of repeater receives communication on one frequency and re-transmits at a different frequency. This is known as duplex communication. Why is this useful?
You can greatly increase the range of your handheld or mobile radio. Repeaters are usually set up at high locations with good quality antennas and higher transmit power than your device.
Repeaters can be physically or remotely linked to other repeaters. With different kinds of links, you can reach an entire metropolitan area, or even across the world through repeater-to-repeater Internet links.
Humor: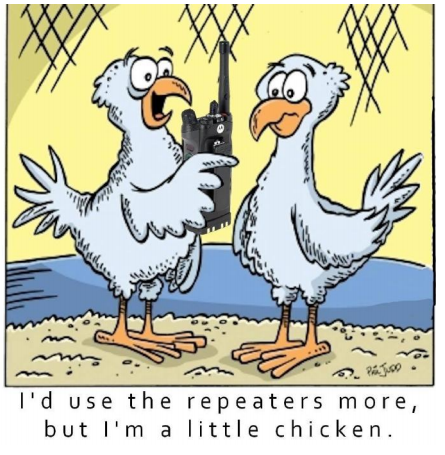 Meetings:
The next meeting will be Monday June 7th from Noon until 1:30PM at the SCHH Town Square Pavilion. Agenda to follow…
Club Website:
The URL is https://www.ke4ham.org. If you notice any errors or have site-related questions, email: webmaster@ke4ham.org.
Nets:
Wednesday Nets (8 PM) operates from KK4ONF/Jasper repeater, 147.060+ and Echolink node: KE4HAM-R
Sunday NET (8 PM) operates on 147.550 MHz simplex and Echolink node:
KE4HAM – L
Other operating:
Daily — DX spotting and open chat 24/7 on 147.550 MHz simplex and the Jasper Repeater, 147.060+ (no Echolink).
AD5EN – SCHH Amateur Radio Club VP